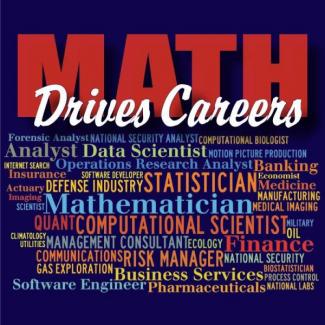 Boyd Graduate Studies Building
The 2015 UGA Math Department Career Day will be held on Monday, 12 October beginning at 5:30PM.  This year's event will take place in the Sloth lobby of Boyd.  Please register in Room 323.
We currently have 5 companies scheduled.  These companies are recruiting math students for jobs and/or summer internships.  Be sure to bring along a resume!
McKesson Corporation is a pharmaceutical distribution and technology company providing health information technology, medical supplies, and care management tools. We are ranked number 11 on the Fortune 500 list with $179 billion in revenue for Fiscal Year 2015. We are number 1 in pharmaceutical distribution in U.S. and Canada, medical-surgical distribution, generics distribution, hospital automation, medical-management software, and many other categories. 1/3 of all pharmaceuticals used each day in North America are delivered by McKesson. And, YES! We hire math majors!
 McKesson will be represented by Mallory Burks, who says:
I graduated from UGA in May 2015 with a B.S. in Mathematics and a minor in Computer Science. I interned with McKesson the summer before my senior year as a Data Analyst where my primary responsibilities were to create metrics and key performance indicators for my team and design dashboards to display this data for Senior Leadership. Upon graduation, I was promoted to Solution Manager where I design, implement  and manage solutions for our business units' technology needs.
McKinsey will be represented by Aaron Caraher, Chris Gill and Trevor Reece, all UGA Math graduates from the GC Insights office of McKinsey & Co.   They say:  Our office is focused on the payments industry, providing benchmarking and best practice analysis and consulting services.  Clients use our services to provide an objective assessment of performance against peers and quantify opportunities for improvement. We are looking for both full-time hires as well as interns for the summer.
Red Clay will be represented by Corporate Recruiters Lisa Blount and Barbara Villafañe who say:
Founded in 2001, Atlanta-based Red Clay Consulting is a leading systems integration and consulting firm in the Energy and Utilities Industry.  Red Clay is a Gold Level member of Oracle Partner Network (OPN) and implements enterprise solutions based on the Oracle Utilities framework.  Red Clay is ambitiously led with integrity by industry experts who are proud to manage a team of dedicated, driven and enthusiastic employees.   Visit www.redclay.com to learn more about our mission of doing what's right and fair for our clients, our employees and our company.
State Farm will be represented by UGA Math graduate Jonathan Sauls.  Jonathan is from the Strategic Resources department of State Farm.  He says: State Farm is the largest auto and homeowners insurance provider in the US. We currently have 50+ members in our advanced analytics group. We also have large actuarial and underwriting groups that are seeking individuals who are quantitatively focused.  I received my undergrad in math from UGA, then I pursued a MS in Math Sciences with an emphasis in Statistics at Clemson University. I worked as a statistician in the R&D department of Michelin for 6 years, then came to work for State Farm. Now, I manage an internship program for graduate students pursuing a degree in quantitative fields such as statistics, business analytics, econometrics, data science, etc
SunTrust will be represented by UGA Math student Jacob Mapel of the Innovation Programs team, who says:
The SunTrust Innovation Programs team works enterprise-wide to bring new and exciting ideas to the bank. Our goal is to make life better for both clients and teammates. We are the home of many unique programs, such as: Gauntlet – a business design contest, RISE – a prototyping contest, and Thank You Cards – an internal tool to allow teammates to express gratitude for a job well done.
Of particular interest to math majors is the Adventures in Data Science program. This is a newly-assembled team that uses mathematical and statistical models to create new value and insight across the enterprise.
We also have 4 academic departments recruiting students for their graduate programs: 
Georgia Regents University
          PDF info about graduate program
Georgia Tech Dept. of Computational Science and Engineering
Georgia Tech QBios, Interdisciplinary Graduate School in Quantitative Biosciences
Georgia Tech Department of Quantitative and Computational Finance